I will post a full, length(ier) update tomorrow, I promise. But for now, just a few things of note:
1. I'm watching
Teen Wolf
with my roommates, and I have a little crush on Styles: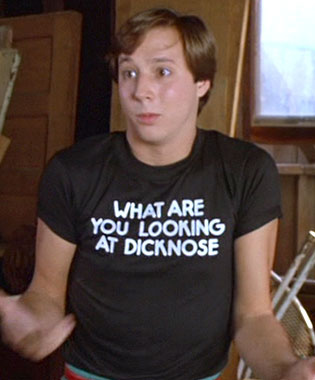 Or maybe I just appreciate his wardrobe (not including the shirt above, which is a little hokey).
2. I am REALLY, REALLY, REALLY glad to be back in Boston. Training in Bethesda was helpful but intense, and it's good to be back among friends and Gibson.
3. I saw
The Uninvited
last night, without knowing beforehand that it was the shitty American remake of the Korean movie
A Tale of Two Sisters,
which I saw a couple of years ago and loved. And yes, the Korean version was much better and also much scarier. See it.
4. Pineapple has anti-inflammatory properties and also tastes very good. Especially when it's fresh. It's worth the effort of cutting it up and taking off the rind.
5. My pal Kurt (
http://617midway.blogspot.com
)'s poetry will be featured this coming Friday at 7pm in a movie screening at Flour Bakery + Cafe in South Boston. Check it out!